Air Fryer Venison Steak Bites
April 15, 2020
Ground Venison Enchilada Casserole
April 28, 2020
Here's another home-twist on a restaurant classic – Korean Elk Bulgogi. It's as close to a warm, comforting hug from a friend as we can get right now so we'll take it! This recipe by Primal Pioneer is primarily focused on preparing the meat – a delectable Elk Tri-Tip Roast marinated in a Chili Garlic sauce. From there, you can get creative with the rest of the dish, customizing it according to your own tastes, cravings and current pantry ingredients. Here are some of our go-to's:
For added crunch: Raw carrots, bean sprouts, crispy lettuce
For extra energy: Fried egg, avocado
For a good base: Rice, rice noodles, cauliflower rice, sauteed greens
These are just some of the ways we've personally customized Korean Elk Bulgogi in the past. Get creative and use what you've got on hand.
Recipe & Photography by Primal Pioneer.
---
Recipe: Korean Elk Bulgogi
Ingredients:
1-1.5 pound The Honest Bison Elk Tri-Tip Roast
½ cup soy sauce (or coconut aminos)
½ cup brown sugar
1 Tbsp. sesame oil
2 Tbsp. chili garlic sauce (see substitutions below)
¼ cup rice vinegar
2 Tbsp. minced garlic
1 Tbsp. ground ginger
Sesame seeds for garnish
Chopped green onions for garnish
---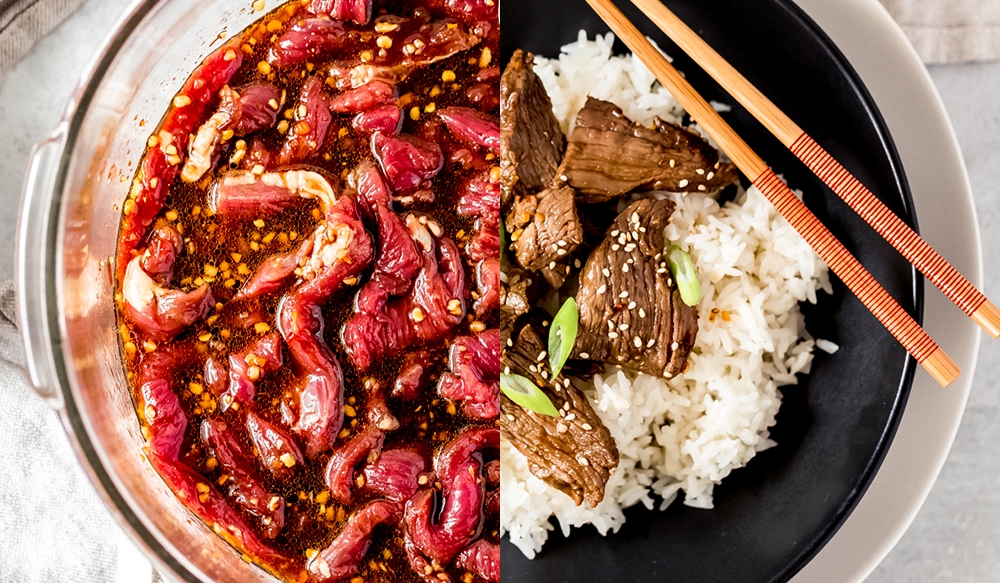 Instructions:
In a bowl, whisk together the soy sauce, brown sugar, sesame oil, chili garlic sauce, rice vinegar, minced garlic, and ground ginger.
Cutaway any silver skin or large fat deposits on the elk tri-tip. Then, thinly slice the entire tri-tip.
Place the sliced tri-tip into the bowl with the marinade and place it into the refrigerator to marinate for at least 3 hours.
When ready to cook, remove the marinated meat from the refrigerator. Heat a large skillet over medium heat. Working in small batches as to not overcrowd the skillet, add the tri-tip to the skillet and sear both sides, just enough to brown both sides, and then set aside. Continue until all of the meat has been seared.
Serve immediately over rice or noodles and top with chopped green onions and sesame seeds.
Options and Alternatives:
You should be able to find chili garlic sauce at most any grocery store. If not, sriracha sauce or sweet chili sauce would work.
A tip for easily slicing the tri-tip into thin strips – place the tri-tip in the freezer for 10-15 minutes before slicing. This will harden the meat just enough to slice easily.
You can marinate overnight for a deeper flavor.
Note: We've purposefully tried to make this recipe easy, using ingredients you hopefully already have. Times are weird right now, so if you can, skip the trip to the store and improvise where you need to.
About Primal Pioneer: Primal Pioneer is about reconnecting with their primal roots and respecting our lands, resources, and natural inhabitants. They support humane conservation and preservation of wildlife. Their goal is to help elevate wild game meats with new and exciting recipes that are also both easy to prepare and delicious. View their original recipe post for Korean Elk Bulgogi here.
Looking for more quarantine-friendly meals like this one? Here are a few of our favorites: